Steps to Schedule your Free, No-Obligation Onsite Estimate

Once you're happy with the price, we will begin removing your junk right then and there.
You pick a date and a two hour window
We call you 15 min before arrival
If you agree to our price, we take your junk
The Best Junk Removal Nipomo CA Has to Offer!
Binz2You provides the most convenient junk removal Nipomo CA has to offer for all your unwanted items, including furniture, appliances, debris, and more. Whether you're replacing old living room furniture or simply need to clear away clutter in a swift and efficient manner, we make it easy to get rid of everything from household appliances and e-waste to construction debris and more. Our team provides friendly service and hassle-free scheduling so you can have your space cleared out quickly and safely.

We understand that everyone's needs are different, so our flexible scheduling allows us to work with even the busiest of clients. Plus, our upfront pricing makes it easy to budget your project without any surprises or hidden fees. When you work with Binz2You, you'll receive the best junk removal Nipomo CA can provide from a locally owned business that cares about the success of your project just as much as you do. Along with our waste hauling services, we offer heavy-duty roll-off bin rentals and demolition services to ensure our customers have everything they need for their various waste removal projects.

We're proud to offer our services in Nipomo, California, and the surrounding areas of Santa Barbara County. Get started today and let Binz2You take care of your junk so you don't have to lift a finger. Whether you're cleaning up after a fun DIY home renovation project or a full-scale foreclosure, our professional, friendly, and experienced team is available to help you clear the mess without any stress. Schedule the junk removal Nipomo CA residents, businesses, construction professionals, and property managers rely on today!
We Take Just About Everything
Some examples of the junk we haul away include
Refrigerator Disposal

Garbage Removal

Mattress Disposal

Foreclosure Clean Outs
Construction Waste Removal

Yard Waste Removal

Trash Removal

Appliance Removal
Television Disposal & Recycling

Furniture Removal

E-Waste Disposal

Hot Tub Disposal
Why You Should Choose Binz2You for Junk Removal Nipomo Can Count On
If you need reliable and efficient junk removal Nipomo can depend on, look no further than Binz2You. We are a local team of professionals dedicated to providing fast, friendly service for all your home or office needs. When you choose us for your various junk removal or cleanup projects, you can count on convenient services that make it easy to get rid of unwanted items quickly and safely, allowing you to focus on more important aspects of the job at hand.

We accept everything from household appliances and e-waste to construction debris and more. No job is too big or small for our expert team! We also understand the importance of responsible disposal practices, so we always ensure that recyclable or reusable materials are recycled, repurposed, or donated whenever possible. We work directly with the Nipomo Regional Landfill to ensure all waste is disposed of in accordance with local regulations. You can rest assured that when you partner with our responsible team, your unwanted items and junk are being tossed in an environmentally-forward fashion. If you're on the hunt for same day junk removal Nipomo CA can count on, we do our best to provide flexible scheduling options and prompt services. Give us a call at (805) 937-0123 to get on our books today.

Our 5-star rated team has years of experience managing the mess on behalf of our customers. Don't wait - trust the dedicated and responsive team at Binz2You to take care of all your junk removal Nipomo needs, no matter the scale or scope of your project! Get started today with our hassle-free scheduling and let us show you why we're the best choice for reliable, reasonably-priced start-to-finish service in your area.
Junk Removal Service Nipomo CA Uses for All Projects
Use the junk removal service Nipomo CA homeowners, businesses, property managers, contractors, and individuals depend on to clear waste, clutter, debris, and unwanted materials in a cost-effective and convenient way with Binz2You! Our services are used for appliance removal, electronic waste disposal, furniture removal, construction debris disposal, yard waste removal, moving services, recycling and donation help, bulk item pick up or removal, and more! Whether you're dealing with household appliances, construction debris, or any other type of unwanted items, our expert team has the experience and equipment to handle it all.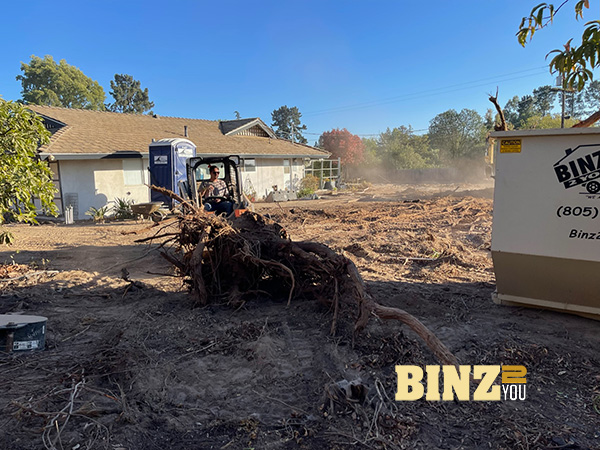 From fridges and freezers to washing machines and dryers, our team can help you get rid of old appliances quickly and efficiently. We'll make sure these items are disposed of properly or recycled whenever possible. Whether you're replacing your furniture or just getting rid of old pieces, we can pick up couches, chairs, tables, dressers, mattresses—you name it! We specialize in taking away all types of construction debris, including lumber scraps, concrete chunks, drywall scraps, roofing tiles, and more. We'll make sure the job site is left clean so you don't have to worry about it later. For all of your residential or commercial Nipomo CA junk removal needs, Binz2You is here to help make your life and job easier with unbeatable prices and unparalleled services.
Junk Removal Prices Nipomo CA Appreciates
At Binz2You, we strive to provide our clients with the most competitive junk removal prices Nipomo CA has to offer. Our upfront pricing model makes it easy to budget for your project without any surprises or unexpected fees. We can even create customized packages depending on your specific waste disposal needs and preferences, as well as the specific type of waste or junk you need to be removed. Whether you're getting rid of a single item or an entire truckload, you can always trust us to offer quality service at the best possible price.

We also understand that some projects may require urgent attention, so we offer flexible scheduling that works around your needs. No matter the size or urgency of your project, we promise to always provide fast and friendly service without sacrificing quality or safety.

We offer junk removal prices Nipomo CA depends on that cater specifically to your location and specific needs. For Santa Maria and Orcutt Tanglewood, our prices begin at $130. For Los Alamos, our prices begin at $150. For Santa Ynez, Solvang, Lompoc, Vandenberg Village, Arroyo Grande, Grover Beach, Pismo Beach, and Buellton, our prices begin at $180. For Guadalupe and Nipomo, our prices begin at $140. We also offer large, 44-gallon trash cans at a flat rate of $5 per can.

We understand many people are searching for cheap junk removal Nipomo CA and surrounding neighborhoods can depend on, but along with cost-effective services, we prioritize stellar customer support, on-time arrival, and reliable follow-through with every single project. With the most competitive junk removal cost Nipomo CA can provide, we're confident we can help you reach your goals in a timely and reasonably-priced manner. Get started today and see why Binz2You is the clear choice for reliable waste disposal services!
Offering Junk Removal Near Nipomo CA and Surrounding Areas
At Binz2You, we're proud to offer the leading junk removal near Nipomo CA, and surrounding communities. We provide comprehensive waste removal and disposal services, roll-off bin rentals, and demolition options for homes and businesses of all sizes. From large construction projects to small-scale residential cleanups, our expert team can handle it all!

Our dedicated team of professionals is available around-the-clock to provide fast, top-notch service in a wide variety of locations, including the surrounding areas of Los Alamos, Orcutt, Santa Maria, Buellton, Santa Ynez, Solvang, Nipomo, Arroyo Grande, San Luis Obispo, Morro Bay, Cayucos, Tanglewood, Oceano, Grover Beach, Pismo Beach, Shell Beach, Los Osos, Lompoc, and other neighboring areas. We provide our services in the 93444 zip code. If you've been searching for the top-rated junk removal Arroyo Grande CA has to offer, we're happy to offer our all-inclusive waste removal services throughout San Luis Obispo County and other areas.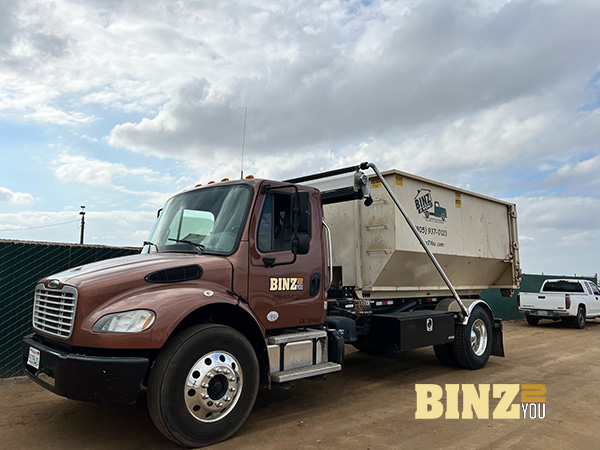 We also take pride in our community commitment which includes helping to keep cities and neighborhoods clean throughout the area. This includes recycling old electronics and appliances according to local regulations and donating reusable items whenever possible. We're proud to partner with local businesses, commercial entities, government agencies, and the Nipomo Union School District to provide reliable and reasonably-priced junk hauling services year-round. Whether you're visiting Ostrich Land, touring Mendenhall's Museum of Gasoline Pumps & Petroliana, or spending the day at DorWood Distillery, we work diligently to ensure our communities remain enjoyable and beautiful places to visit, live, and work. When looking for high-quality junk removal near Nipomo CA, Binz2You is your best bet. From Nipomo to Nipomo and beyond, Binz2You is your trusted partner for responsible junk removal services throughout Santa Barbara County. You no longer have to spend hours searching for the best junk removal near me Nipomo CA can depend on! Get started today by calling us for a free quote on any project big or small.
Service Area
FAQs About Junk Removal in Nipomo CA
We understand you might have questions about the process for scheduling junk removal in Nipomo CA, which is why we've compiled a convenient list of frequently asked questions for you to browse through to learn more about our services and team. Take a look at our FAQs below and contact us today to schedule a free, no-obligation consultation.
Q.
How much does it cost to hire your services?
A.
We offer the most cost-effective junk removal services Nipomo CA can provide. Our service prices vary depending on the location and amount of junk being hauled away. For an exact quote, schedule a no-obligation, on-site estimate, and our junk removal experts will provide a custom, no-hassle price point. We start at just $130 for Santa Maria and Orcutt Tanglewood, $150 for Los Alamos, $180 for Santa Ynez, Solvang, Lompoc, Vandenberg Village, Arroyo Grande, Grover Beach, Pismo Beach, and Buellton, and $140 for Guadalupe and Nipomo. Plus, we also offer 44-gallon trash cans at a flat rate of only $5 each - perfect for larger jobs where traditional methods just won't do. Contact us today to start finding out why Binz2You is your source for quality junk removal!
Q.
Do you offer other waste disposal services?
A.
Yes! We're your one-stop waste removal shop and offer junk hauling, roll-off dumpster rental, and demolition services. Whatever your residential or commercial waste disposal needs, our team is here to help. We can haul away the junk for you, so you don't have to break a sweat, or we can deliver one of our commercial-grade bins for you to load at your convenience.
Q.
What types of waste can your team remove?
A.
With our options for junk removal in Nipomo CA, pretty much anything can be hauled away, including furniture, appliances, mattresses, construction waste, yard debris, televisions, e-waste, hot tubs, and more. Certain items may incur an additional fee for special disposal methods. For an exact quote, contact our team today to learn more.