Binz 2 You
Dumpster Rentals
Dumpster Rental in Lompoc, CA
Dumpster Rental Lompoc
For the best dumpster rental Lompoc has to offer, choose Binz2You! We are a premier dumpster rental company that takes pride in offering the best waste disposal service to customers in Lompoc, California, and the surrounding areas of Santa Barbara County. As a locally owned and operated business, we are deeply rooted in the community and committed to providing exceptional service that meets the needs of our valued customers.

Our dedication to being community-driven sets us apart from our competitors. We understand the unique requirements of our local customers and strive to deliver tailored solutions that address their specific needs. Whether it's a small residential project or a large commercial construction site cleanup, we have the perfect dumpster rental Lompoc needs to handle any job efficiently, effectively, and easily. Our team of experts is always ready to guide and assist customers in selecting the right bin size, understanding local regulations and permits, and ensuring safe and responsible disposal of waste materials.

What sets us apart from other companies is our commitment to making the entire process simple and hassle-free for our customers. From the moment you reach out to us, our friendly and professional team will be there to assist you every step of the way. We want to provide the dumpster rental Lompoc can book with confidence. We offer flexible rental periods, convenient delivery and pickup options, and transparent pricing, ensuring that you have a seamless experience working with us.

When it comes to a dumpster rental Lompoc California can count on, our crew stands out as the trusted choice. With our locally owned and operated business, community-driven approach, and dedication to providing exceptional service, we are the go-to company for all your dumpster rental needs. Talk to our friendly staff, and we'll answer any questions about our services by giving us a call at (805) 937-0123 or scheduling a delivery online now!
We Take Just About Everything
Some examples of the junk we haul away include
Refrigerator Disposal

Garbage Removal

Mattress Disposal

Foreclosure Clean Outs
Construction Waste Removal

Yard Waste Removal

Trash Removal

Appliance Removal
Television Disposal & Recycling

Furniture Removal

E-Waste Disposal

Hot Tub Disposal
Our Services
Dumpster Rentals in Lompoc
Reserve Online
With the help of our user-friendly online booking platform, you can schedule a dumpster delivery with a few easy clicks.
Competitive Pricing
We've built a positive reputation in our community by offering flexible scheduling and transparent pricing to help our clients reach their goals in no time.
Service Area
We're proud to be the top choice for dumpster rentals in Lompoc and surrounding areas.
Delivery
Rest assured that our professional drivers will carefully and seamlessly deliver your rentals, paying attention to your property or work site in the process.
How To Rent Our Dumpsters In 4 Easy Steps
1. Schedule Your Dumpster Rental
Give us a call today and we'll find the right sized dumpster rental for your project at an affordable price and schedule your rental.
2. Prepare for Dumpster Delivery
Our dumpster rental professionals will deliver your dumpster at a time that works for your project. Please ensure the drop-off area is clear.
3. Fill Up Your Dumpster
Fill up your dumpster with the acceptable waste. Not sure if you can put a particular item in your roll-off container? Give us a call to find out what's accepted in your area.
4. Schedule Your Pickup
When you're done using your dumpster, give us a quick call or text, and we will come and pick up the dumpster. We also peform a thorough clean-up of your space.
Why You Should Choose Binz2You for Your Lompoc Dumpster Rental Needs
When it comes to choosing a Lompoc dumpster rental, Binz2You is your top choice. We've built a strong reputation for providing exceptional service and going above and beyond to meet our customers' needs. One of the key reasons to choose our locally owned and operated company is the social trust we have garnered over the years. We take great pride in our numerous positive reviews and testimonials from satisfied customers with our Lompoc dumpster rental. Our commitment to professionalism and customer satisfaction has earned us the trust of the community we serve, including partnerships with local businesses and residents who rely on us for their dumpster rental needs. Along with affordable and high-quality bin rentals, we offer junk removal and demolition services, making us your one-stop waste removal shop!

Keeping the city clean is a priority for us. That's why we offer durable and clean containers that are meticulously maintained. We work with reputable, industry-leading manufacturers to ensure that our bins are of the highest quality and feature top container designs for easy and safe loading. We also go the extra mile with our Lompoc CA dumpster by cleaning, sanitizing, and inspecting our containers before and after each use, ensuring a hygienic and pleasant experience for our customers.

As a locally owned and operated company, we're deeply invested in the community we serve. Our driveway-friendly Lompoc CA roll off dumpster rental designs allow for the convenient placement of dumpsters without causing any damage to your property. We understand the importance of being respectful and considerate, and our team of professionals takes great care to ensure that your experience with us is seamless and stress-free. By choosing our crew, you're choosing a Lompoc garbage dumpster company that's dedicated to providing excellent service, maintaining social trust, and contributing to the cleanliness and well-being of the city. Contact us today and experience the difference for yourself.
Various Uses for a Dumpster Rental Lompoc CA Can Count On
Use the local professionals and the best dumpster rental Lompoc CA relies on for a variety of residential and commercial projects. We understand that dumpster rentals serve a wide range of purposes, and we're here to meet all your waste management needs, big or small. Whether you're a homeowner, a contractor, or a business owner, we have the perfect waste disposal solution for you. For residential projects, our dumpsters are ideal for decluttering, renovating, or moving. From cleaning out the garage to tackling a major home remodeling project, our residential bins offer the convenience and capacity you need to handle any job efficiently and safely. We have the budget dumpster rental Lompoc CA won't be disappointed in. In the construction industry, our dumpsters are essential for debris removal and waste management. Contractors rely on us for reliable and cost-effective dumpster rentals to keep their job sites clean, organized, and on track. This dumpster rental in Lompoc CA is guaranteed to get your construction projects completed with ease. We offer a variety of sizes and roll-off options to accommodate projects of any scale, from small renovations to large-scale construction sites.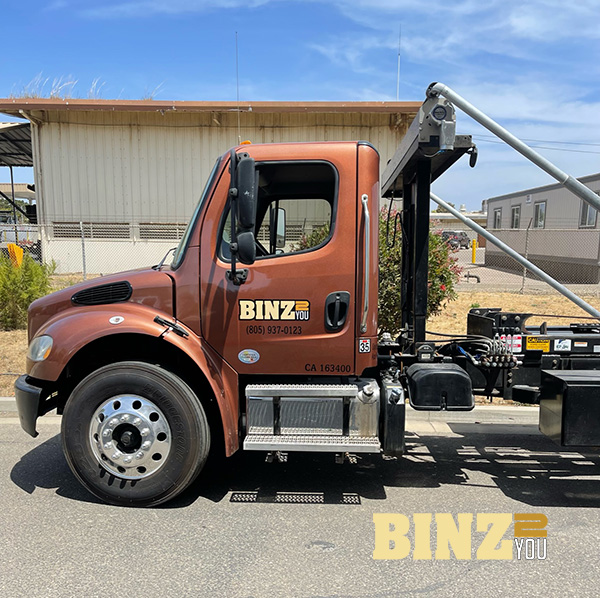 Our options for a dumpster rental near Lompoc CA are also well-suited for commercial purposes. Whether you need waste management solutions for businesses, corporate settings, or "public" spaces like retirement homes and apartment complexes, we have you covered. Our dumpsters can handle a wide range of materials, including office furniture, construction debris, and general waste. For specific projects such as roofing or demolition, we offer specialized dumpsters designed to meet the unique needs of these industries. Our knowledgeable team can assist you in selecting the right dumpster size and style to ensure efficient waste disposal and compliance with local regulations.

We take pride in our commitment to responsible waste disposal. We regularly partner with Lompoc Regional Landfill to ensure your waste is disposed of properly, abiding by all city, county, and state regulations. You can have peace of mind knowing that your waste will be handled in an environmentally conscious and lawful manner. We offer a wide selection of options for a dumpster rental Lompoc CA can depend on in various sizes and types to accommodate your specific needs. Contact us today to discuss your waste management goals and let us provide the perfect dumpster rental solution so you can focus on more important things than what to do with the trash!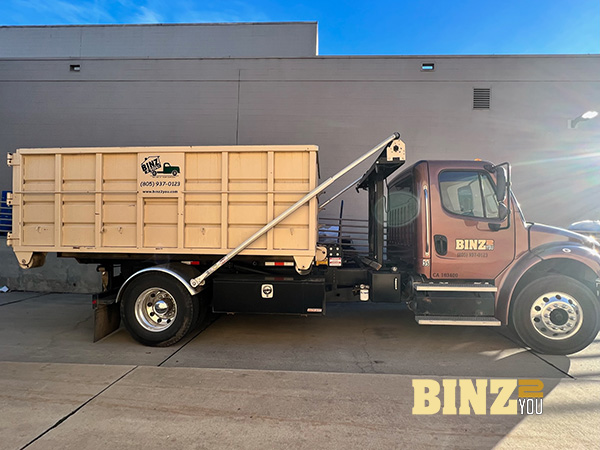 Residential Dumpster Rental Lompoc CA Homeowners Use for Repairs, Renovations, and Cleanout Projects'
Use the residential dumpster rental Lompoc CA homeowners trust most for their waste disposal projects from Binz2You! We specialize in providing convenient and reliable rentals for a variety of residential projects. Our bins are perfect for garage and attic cleanouts, estate sales, downsizing, disposal of broken appliances, small or single-room renovations, home repairs, yard maintenance, roofing repairs, flooring removal, and even hoarding situations. We understand that each homeowner's needs are unique, and our range of Lompoc CA residential dumpster rental sizes ensures that we have the ideal solution for projects of any scale or scope. Our knowledgeable team can guide you in selecting the right dumpster size to accommodate your specific goals. Our driveway-friendly dumpsters are designed to be easily placed on your property without causing any damage.
We want you to book your residential dumpster rental Lompoc depends on with ease, which is why our experienced and professional drivers ensure that the entire delivery and pickup process is seamless and stress-free. Whether you need a Lompoc residential dumpster rental for a few days or a longer duration, we can accommodate your needs. When you choose us for your residential waste removal needs, you can trust that you're working with a company that prioritizes your convenience, provides reliable service, and is committed to your satisfaction. Book online today and we'll bring the bin to you!
Book the Roll Off Dumpster Rental Lompoc Homeowners Use for Outdoor and Yard Projects
With the help of our roll off dumpster rental Lompoc homeowners can spruce up their yards in no time. We're here to support your landscaping and outdoor projects with our reliable and reasonably-priced dumpster rentals. Whether you're tackling a landscaping design, outdoor renovations like a patio, deck, driveway, sidewalk, or shed demolition, or engaging in gardening and seasonal cleaning, we have the perfect dumpster solution for you.

We understand that outdoor projects often involve the removal of brush and debris. We have the roll off dumpster Lompoc CA can count on to accommodate such materials, making your clean-up process seamless and efficient. Additionally, if you have outdated outdoor equipment or appliances, such as children's playgrounds or treehouses, our dumpsters can safely dispose of them. In times of storms or severe weather, our dumpsters are invaluable for storm debris clean-up. We provide the means to swiftly remove fallen branches, debris, and other outdoor waste, helping you restore your outdoor space to its former glory with our Lompoc CA roll off dumpster. No matter the size or scope of your landscaping or outdoor project, you can rely on us to provide a high-quality roll off dumpster in Lompoc CA that meets your needs. Our team is dedicated to ensuring your satisfaction and providing prompt, reliable service. Contact us today at (805) 937-0123 or book online and let us assist you with your landscaping and outdoor endeavors.
Cost-Effective Lompoc Roll Off Dumpster Rental Business Owners Use to Keep Commercial Spaces Waste-Free
Use the commercial Lompoc roll off dumpster rental that businesses depend on for cost-effective and convenient waste management. As a locally owned and operated business ourselves, we understand the ongoing waste disposal requirements of businesses and commercial spaces. Whether you manage a hotel and are preparing for renovations or run a local apartment complex and want to prepare for the move-out season, we're here to help. Our Lompoc roll off dumpster is designed to handle a wide range of waste commonly found in commercial settings. From general office waste to construction debris, we have you covered. We recognize the importance of maintaining a clean and tidy site for the benefit of customers, guests, visitors, tenants, and employees.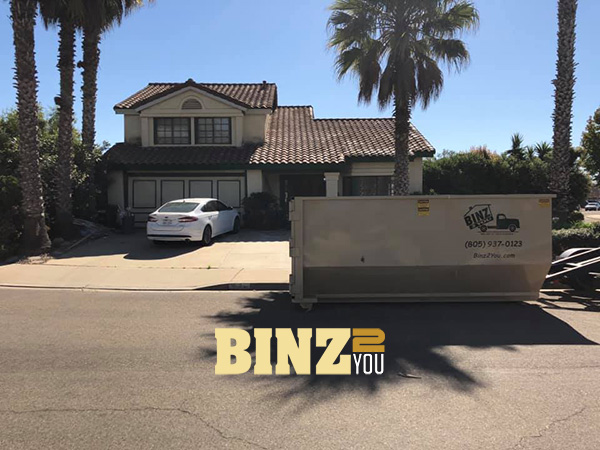 With our reliable rentals, you can ensure that your premises are free from clutter and waste, promoting a safe and pleasant environment for everyone. In addition to regular Lompoc waste management dumpster rentals, we also cater to specific commercial projects such as foreclosure and estate sale cleanouts. Our dumpsters provide the necessary capacity to handle the disposal of unwanted items and debris efficiently. Whether you require short- or long-term rental options, we have flexible solutions to meet your specific needs. Our team is dedicated to providing prompt and reliable service, ensuring that your waste management requirements are met with efficiency and professionalism. Contact us today to discuss your commercial waste management needs and let us provide you with the perfect dumpster rental solution to help keep your business streamlined and set up for success!
Heavy-Duty Construction Dumpster Rental Lompoc CA Contractors Use to Stay On Track
We provide the construction dumpster rental Lompoc CA contractors use to effectively manage debris containment and disposal on their job sites. We understand that contractors and project managers need reliable, heavy-duty equipment they can depend on for a wide range of projects. Whether you're involved in housing developments, roofing replacements, residential renovations, office park developments, or infrastructure projects, we have the perfect dumpster rentals to meet your needs.

We prioritize the safety and functionality of your worksite. Our durable Lompoc CA construction dumpster rental is built to withstand the demands of construction projects, ensuring that your waste management needs are efficiently addressed. From large-scale debris removal to the disposal of construction materials, we have you covered.

Our Lompoc construction dumpster rental is designed to contain and haul away a variety of materials, including tile, wood, drywall, shingles, asphalt, and more. We provide you with a convenient and responsible solution for the proper disposal of these materials, ensuring compliance with regulations and minimizing environmental impact.

As a contractor or project manager, you can rely on us to deliver the construction dumpster rental Lompoc can count on for exceptional service and top-quality equipment. We understand the importance of timely deliveries and pickups, and our team is dedicated to meeting your scheduling needs. Contact us today to discuss your specific requirements and let us provide you with reliable dumpster rentals that will keep your worksite safe, clean, and efficient.


Book the Roll Off Dumpster Lompoc Roofers Count On to Get the Job Done
Our company provides the roll off dumpster Lompoc roofers can't complete projects without! We're the go-to choice for roofers in need of reliable dumpster rentals for their projects. We understand the unique needs and challenges that come with roofing jobs, and we provide the perfect solution to streamline your waste management process.

Roofing projects generate a significant amount of debris, including old shingles, damaged roofing materials, and other waste. Our dumpsters are specifically designed to handle these materials efficiently, allowing you to keep the worksite clean and organized. With our company, you can count on durable dumpsters that are built to withstand the weight and volume of roofing debris. We've got the largest roll off dumpster Lompoc CA can find for an affordable price. Our dumpsters are available in various sizes, ensuring that we have the right fit for your specific project.

By using our dumpster rentals, you can save time and effort on debris removal. Instead of making multiple trips to the landfill, simply throw the waste in our dumpsters, and we'll haul it away for you. We offer flexible rental periods to accommodate your project timeline, allowing you to focus on your roofing work without interruptions. Our professional and friendly team is committed to providing exceptional service, ensuring that your experience with us is seamless from start to finish. We prioritize prompt delivery and pickup, and we are always ready to assist you with any questions or concerns. Contact us today to discuss your roofing needs and let us provide you with the perfect dumpster solution to make your job easier and more efficient.
How to Book the #1 Lompoc Dumpster for Your Waste Management Needs
Booking a Lompoc dumpster couldn't be easier with our convenient, easy-to-use online booking system. Follow the steps below to reserve a Lompoc dumpster rental with ease:

1) From any page of our website, click the green "Book Now" button located in the upper right corner.
2) Browse through our selection of available dumpster rental sizing options. We offer a range of sizes to accommodate your specific needs, from smaller dumpsters for residential projects to larger bins for commercial or construction sites.
3) Once you've selected the appropriate size, choose your desired rental period. We offer flexible options to ensure that the dumpster is available for the duration of your project. We want to ensure you have the best experience renting the garbage dumpster Lompoc relies on for waste management projects.
4) Provide the necessary information, including your contact details and the delivery address. If you have any specific instructions or requirements, you can include them in the provided space.
5) Review your booking details and confirm your reservation. You will receive a confirmation email shortly after submitting your information. One of our team members will then be in touch to confirm a delivery window that works for your schedule.

Our customer support team is always available to assist you. If you have any questions or prefer to book over the phone, you can reach us at (805) 973-0123. We are happy to provide any additional information and guide you through the process.

Throughout the rental period, you can expect follow-up emails to ensure everything is going smoothly. If you need to make any adjustments or have any concerns, simply reach out to our customer support team, and we'll be happy to help out. We strive to make the booking process as seamless and hassle-free as possible so we can continue to offer the trash dumpster Lompoc CA can count on. Booking your perfect dumpster has never been simpler. With Binz2You, say goodbye to the hassle and hello to convenience. Experience the confidence of seamless dumpster rental with just a few clicks.


Affordable and Reliable Options for a Lompoc CA Dumpster Rental
From small cleanouts to large construction projects, we have the perfect Lompoc CA dumpster rental size to fit your needs. Our versatile range of dumpsters ensures that no matter the scale of your project, you'll find the ideal solution with ease. Get the job done right, with the right size dumpster by your side. Take a look at the available sizes and prices for our bins and book online!


10-Yard Dumpster: This bin measures 7'x3.5'x14' and is perfect for smaller projects. It comes with a rental period of up to four days, with pickup included on the fifth day. Additionally, it includes a one-ton weight allowance. The cost for this dumpster is $290.00, which is a great cheap dumpster rental Lompoc CA can choose to get the job done without sacrificing quality for the price!
20-Yard Dumpster: Our 20-yard roll-off measures 8'x6'x14' and provides additional capacity for larger projects. The base price includes a four-day rental period, and pickup is included on the fifth day. It also includes a two-ton weight allowance beginning at $355.00, making it one of the best dumpster rental prices Lompoc CA is going to find.
20-Yard Covered Top: This variant of our 20-yard bin is designed with a covered top for added convenience and protection. It has the same dimensions and weight allowance as the regular 20-yard dumpster, with a rental period of up to four days and pickup included on the fifth day. The cost for this dumpster is also $355.00.
Please note that our pricing includes a specified weight allowance, ensuring that you can dispose of your waste without incurring additional charges. If you require additional tonnage beyond the included allowance, we have straightforward pricing for excess weight. If you're wondering, "What size roll off dumpster do I need in Lompoc CA?" you can contact us today to discuss your project and let us help you select the right dumpster size at a competitive price. With Binz2You, finding the ideal dumpster size is a breeze, allowing you to focus on what truly matters – getting the job done efficiently and hassle-free.
Professional And
Experienced Team
Flexible, Timely
Pickup and Delivery
Locally Owned
And Operated
Wide Selection
Of Dumpster Sizes
Discover the Enchanting Charms of Lompoc CA
Welcome to Lompoc, CA, a captivating city that offers a wide range of activities for visitors and residents to enjoy. Whether you're seeking outdoor adventures, exploring historical landmarks, or indulging in culinary delights, Lompoc has something for everyone.

Nature lovers will be enchanted by the breathtaking landscapes surrounding Lompoc. Explore the stunning La Purisima Mission State Historic Park, where you can wander through lush gardens, admire the preserved mission buildings, and learn about the area's Spanish colonial history. Immerse yourself in the serenity of the park's trails, keeping an eye out for local wildlife and enjoying the tranquility of the natural surroundings.


Unveiling the Historic Landmarks and Fascinating Past of Lompoc, California
Lompoc is rich in history and boasts several remarkable landmarks that reflect its heritage. Visit the Lompoc Museum, where you can delve into the city's past through fascinating exhibits and artifacts. Learn about the Chumash Native American culture, the region's agricultural roots, and the development of Lompoc over time.

Another iconic landmark in Lompoc is the historic Vandenberg Space Force Base, which offers a unique opportunity to witness space launches and explore exhibits highlighting the base's contributions to space exploration. Experience the awe-inspiring nature of space and the important role Lompoc plays in advancing our understanding of the universe.


Culinary Delights and Tantalizing Tastes of Lompoc
Lompoc's culinary scene is a true delight, with a variety of dining options that will satisfy any palate. Explore the local farm-to-table eateries, where you can savor fresh and seasonal ingredients in innovative and flavorful dishes. Indulge in world-class wines from the nearby Santa Rita Hills, known for producing exceptional Pinot Noir and Chardonnay varietals. Whether you're seeking a casual meal or a fine dining experience, Lompoc's restaurants offer a range of flavors and culinary experiences to suit every taste.

Lompoc is also home to a vibrant community with diverse places of worship. These welcoming churches and religious centers provide spaces for reflection, worship, and community engagement. Connect with others who share your faith or explore different spiritual traditions in an environment that fosters understanding and unity.

In conclusion, Lompoc, CA, offers a blend of natural beauty, historical landmarks, culinary delights, and a strong sense of community. Whether you're exploring the city's parks and historical sites, savoring its diverse cuisine, or seeking spiritual fulfillment, you'll find a warm and inviting atmosphere that captures the essence of this enchanting city on the Central Coast.
Delivering the Best Roll Off Dumpster Rental Lompoc CA Relies On
We love and appreciate the local landmarks and points of interest that make our cities unique. From La Purísima Mission State Historic Park to the Lompoc Museum and the Lompoc Aquatic Center, we take pride in being a part of the community and contributing to its cleanliness and beauty. Our commitment to the community extends to the parks and recreational areas nearby. We understand the importance of preserving these natural spaces, and our waste disposal services ensure that these areas remain clean and enjoyable for everyone.

We're more than just a dumpster rental service – we're passionate about fostering clean and thriving communities by offering the roll off dumpster rental Lompoc CA uses to clear waste with ease. At Binz2You, we believe in the power of collective action and take pride in our role as a community-driven company. Our commitment to keeping cities clean runs deep, as we work tirelessly to provide efficient waste management solutions that make a positive impact on the environment and the neighborhoods we serve. Join us in building a better community, starting with a cleaner city, today!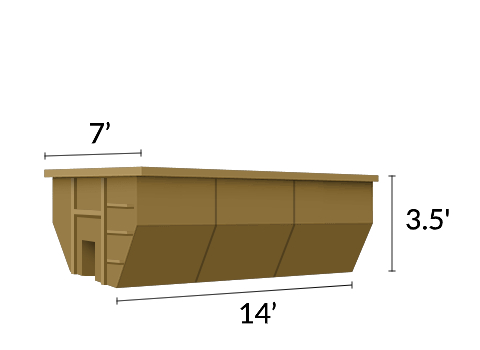 Binz2You offers several delivery options for a roll off dumpster rental Lompoc CA and surrounding areas can appreciate. We take pride in serving multiple cities and communities in Santa Barbara County, including Santa Maria, Orcutt, Los Alamos, and more. If you're on the hunt for the #1 dumpster rental Nipomo CA has to offer, you're in the right place! We're dedicated to keeping our cities clean and providing convenient waste disposal services to our valued customers.

If you're looking for a dumpster rental near me Lompoc CA can depend on, you've come to the right place. Our commitment to the community extends beyond just providing dumpster rentals. We regularly partner with local businesses, community organizations, and individuals seeking cost-effective and convenient waste disposal services in Santa Barbara County or surrounding areas. One of our valued partners is the Lompoc Unified School District, as we recognize the importance of supporting education and contributing to the well-being of our local schools. Our service area covers various zip codes, including 93436 and 93438, ensuring that residents and businesses in these areas have access to our reliable dumpster rentals. .
Service Area
FAQs About the Best Dumpster Lompoc CA Has to Offer
We know there are a lot of factors to consider when selecting a dumpster Lompoc CA can depend on, so take a look at our frequently asked questions below and get in touch with us if you need any additional information. If there are any questions you have that were not answered below, feel free to contact a member of our team at (805) 973-0123 and we'll be happy to help!
Q.
How do I book a dumpster online?
A.
Booking the garbage dumpster Lompoc depends on for waste management needs is as easy as it can be online. Simply click the green "Book Now" button, select your desired dumpster size, choose your rental period, provide your contact information and delivery address, review the booking details, and confirm your reservation. We'll bring the bin to you at the time and location of your choosing, so you can get to work!
Q.
What if I need more time than I originally anticipated?
A.
We offer flexible rental periods to accommodate your project's needs. If you need more time than you originally thought, contact our team, and we'll make the necessary arrangements to extend your rental period.
Q.
What kind of waste can I load into the bin?
A.
Our bins are designed to accept various types of waste, including construction debris, household junk, and yard waste. However, hazardous materials, chemicals, and other prohibited items are not allowed. Please refer to our website or contact us for a comprehensive list of acceptable materials before you get started on your project.
Q.
What areas do you serve?
A.
We provide dumpster rental services in Santa Barbara County and surrounding areas. If you're unsure if we provide service in your area, please contact us, and we'll be happy to assist you. We want to accommodate our customers and give them the best experience possible when renting a dumpster Lompoc can trust to get the job done.
Background: drs_color_psi
The High-Quality Dumpster Lompoc Locals Love
We're proud to have received numerous positive reviews and maintain a 5-star Google rating for our dumpster Lompoc locals appreciate! Our commitment to exceptional service, reliable dumpster rentals, and customer satisfaction has earned us the trust and appreciation of our valued clients. We strive to exceed expectations with every interaction, providing prompt and friendly customer support, delivering on time, and ensuring that our bins meet the highest standards of quality. We're grateful for the positive feedback we've received, and it serves as a testament to our dedication to excellence in every aspect of our dumpster rental services. Take a look at a selection of our positive reviews below and schedule a delivery online today!
I think the things I liked the best about dealing with Binz4you were their easy-going can-do attitude and the ten dollar a day extra-day fee. I kept my bin for ten extra days. When it was time for them to take the bin away, I had actually accomplished all the cleanup I had wanted to do with no time pressure. It made an otherwise difficult cleanup much easier to not struggle against a deadline. I highly recommend Binz2you as a vendor that is committed to giving you the best service and good value for your money.
This is the second time we've used Binz2You. Great customer service and is very responsive. We had a change of plans and needed the bin picked up over the weekend. One quick message, and they were able to accommodate our needs. Top notch service at competitive prices. The 20 yard covered top roll off was in great condition and functioned perfectly. We will definitely call them again for our next project.
From the minute I called to place an order for the service to the moment they picked it up, it was the most professional experience I've dealt with in a long time. This service was on time for delivery and pick up. Half the cost of other waste management. Highly recommend!